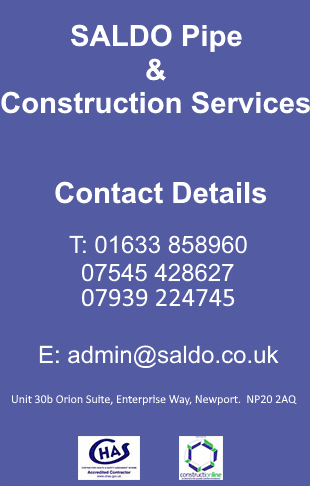 SALDO Pipe and Construction (a trading name of Pureideal Limited) are a drainage and groundwork's contractor which has been established for over 25 years covering Newport, Monmouthshire, Gwent, Torfaen, Caerphilly, Cardiff and surrounding areas.
As a team we have over 40 years of Industry experience and offer a professional service for a good quality fair price. to our customer base includes Monmouthshire Council, Newport City Council, Pobl Group, Bron Afon Housing, Melin Homes, Newport City Homes, National Trust, The Caravan Club as well as a wide range of local contractors and private customers.
We are committed to offering consistently high standards of service to all our customers, and our focus is always on our clients and their requirements. We are the experts that you will call upon when you have a problem and you can be sure that we will deal with your problem efficiently and effectively.